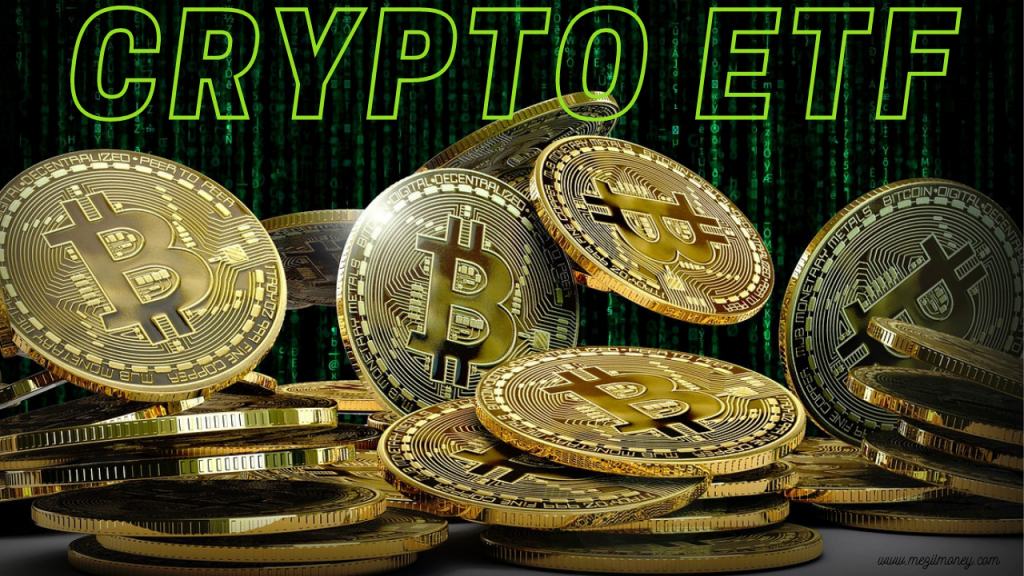 One of the recent ways to invest in the crypto space is Crypto ETFs. What is crypto ETF? How do they work? How can you take advantage of them to better your financial future?
Until just a few years ago, there was nothing like cryptocurrency. In fact, Bitcoin, the oldest cryptocurrency was launched in 2009!
However, within these few years, crypto assets have turned out to be one of the most profitable types of investment available. As a result, more ways have been created to allow people to take advantage of this crypto boom.
These and other questions will be answered in this article.
Let's go!
What is Crypto ETF?
If you are not very familiar with crypto assets, chances are that you will be hearing of Crypto ETFs for the first time. However, before we define Crypto ETFs, let us first have a general understanding of ETFs.
So, what is an ETF?
According to Investopedia, ETF, also known as Exchange Traded Fund, is a type of security that tracks an index, a sector or commodity, and can be purchased or sold on a stock exchange just like a regular stock.
ETFs can be structured to track anything, from the price of individual stocks to a large and diverse collection of securities. They can also be structured to track specific investment strategies.
Fidelity.com defines Exchange Traded fund (ETF) as a collection of securities you can buy or sell on the stock market. ETFs can be bought on any asset class you wish to invest in.
Furthermore, innovative ETF structures can be used by investors to short markets, gain leverage, and avoid short-term capital gains taxes.
ETFs eventually launched in 1993, after some failed attempts, and its first product was known as SPY/Spiders. It eventually became the highest volume ETF in history.
As of 2021, ETFs are estimated at $5.83 trillion, with almost 2,354 ETF products traded on the US Stock Market.
So, what is Crypto ETFs?
Crypto ETFs can be defined as an Exchange Traded Fund that tracks the value of Cryptocurrency and is traded on the traditional exchange market, rather than on crypto exchanges.
With this investment vehicle, you can invest in any cryptocurrency of your choice, without having to use a cryptocurrency exchange.
Crypto ETFs operate like other ETFs in the financial market. What differentiates them from the rest is that they are designed to track only track crypto assets.
Like other ETFs, crypto ETFs trade like common stocks on the stock exchange market, and of course they are subject to changes in prices as investors buy and sell them throughout the day.
How Do Crypto ETFs Work?
For a Crypto ETF to function smoothly, the organization managing the fund has to own the underlying Cryptocurrency the ETF tracks. That is, the organization would have to own cryptocurrency commensurate to the volume of ETF being traded.
The volume of crypto assets backing the ETF would then be presented as shares, thereby making investors who buy these shares indirect owners of these crypto assets. These crypto ETF investors would then be able to gain profit from the increase in value of the underlying crypto assets.
Presently, the American Securities and Exchange Commission is yet to approve Crypto ETFs, because, according to them, the market is yet to demonstrate a satisfactory degree of stability, and security.
However, it is expected that in June 2021, they will present their decision on it.
This development has, however, not stopped some parties from attempting to launch their crypto ETF.
Crypto ETFs in North America
At the moment, Canada is the only major economy in North America that has approved Crypto ETFs to be traded on their stock exchange market. In this section, we will be reviewing Canadian Crypto ETFs.
Purpose Bitcoin ETF
This is on record, the first crypto ETF to trade in Northern America.
It was licensed by the Canadian Securities Commission to operate on the Toronto Stock Exchange (TSX) in February 2021, making it the first Canadian Crypto ETF. This fund is managed by Purpose Investments Inc.
Purpose Investments Inc. is a multi-billion-dollar asset management company, with assets worth over $10 billion under its management.
The funds filing describes this ETF as an alternative mutual fund that invests in and holds substantially all of its assets in long-term holdings of the digital currency bitcoin.
About this ETF, Purpose Investments was quoted as saying:
The ETF will be the first in the world to invest directly in physically-settled bitcoin, not derivatives, allowing investors easy and efficient access to the emerging asset class of cryptocurrency without the associated risk of self-custody within a digital wallet.
As this ETF has been listed on the Toronto Stock Exchange, investors can now buy or sell these ETF units through registered brokers anywhere and anytime.
To learn more about this ETF, you can read this.
Purpose Ether ETF (ETHH)
Purpose Investments Inc. also offers an Ethereum ETF that goes by the name above. The fund is available under these ticker symbols:
ETHH (Canadian Dollars Hedged)
ETHH.B (Canadian dollars non-hedged)
ETHH.U (US dollars non-hedged)
It was launched on the 19th of April, 2021, with 15380.1615 ETH assets under its management. The management fee to be paid by investors is 1% of their total investment, in this class of digital assets, and the Management Expense Ratio (MER) may be as high as 1.50%.
Evolve Bitcoin ETF
Evolve Bitcoin ETF comes as the second North American Crypto ETF licensed to operate in a stock exchange market. It is coming on the back of Purpose Bitcoin ETF that was only recently licensed to operate.
This ETF was licensed to be traded on the Toronto Stock Exchange (TSX), in February 2021.
According to the company, it will be one of the world's first physically settled bitcoin ETFs. In addition, it will come in two offerings: unhedged ETF units (ticker: EBIT) and USD unhedged units (ticker: EBIT.U).
Evolve Funds Group Inc is one of the fastest-growing ETF providers in Canada, with over $1.7 billion in assets under its management.
According to Lala Raj, Evolve's CEO, with this ETF, investors will be able to trade bitcoin on a regulated stock market. And it will be as easy as buying shares through banks or a brokerage firm.
Evolve Ether ETF (ETHR)
Evolve Ether ETF is offered by Evolve Funds Group Inc., an asset management company in Canada. This fund is available under the following tickers:
ETHR (Unhedged) – Can be assessed with Canadian Dollars.
ETHR.U (Unhedged) – Can be assessed with US dollars.
It was launched on the 20th of April, 2021, with $13 million assets under its management. The management fee is 0.75% of the investor's assets being managed.
CI Galaxy Bitcoin ETF
This is the latest Bitcoin ETF in Canada, coming a little after Purpose bitcoin ETF, and Evolve Bitcoin ETF. It trades under two ticker symbols – BTCX.B and BCTX.U.
BTCX.B trades ETF unhedged in Canadian dollars, while BCTX.U trades unhedged in US dollars.
This ETF invests directly in bitcoin with its holdings priced according to the Bloomberg Galaxy Bitcoin Index, which tracks the performance of bitcoins in US dollars. This index is managed by Bloomberg Index Services Ltd.
The CI Galaxy Bitcoin ETF is managed by CI Global Management LP, which is the asset management arm of Galaxy Digitals. It serves as the bitcoin sub-advisor and executes bitcoin trading on behalf of the ETF.
To learn more about this ETF, visit www.ci.com/bitcoin.
CI Galaxy Ethereum ETF (ETHX)
The CI Galaxy Ethereum ETF trades in the Toronto Stock Exchange under these ticker symbols:
ETHX.B (Canadian dollar unhedged)
ETHX.U (US dollars unhedged)
It was launched on the 16th of April, 2021. At the moment, Assets management under it is valued at $112.99 million.
The management fee cost as much as 0.95% of the total value of your investment. However, because the CI Galaxy Ethereum ETF is largely new, managers have decided to wave management fees until the 15th of June, 2021.
3iQ CoinShares Ether ETF (ETHQ)
3IQ Corp offers Ether ETF in the Toronto Stock Exchange. This ETF was launched on the 19th of April, 2021, and it is available in Canadian and US dollars under the following tickers:
As of April 27, 2021, this ETF had about $2.76 million in assets under its management. Its management fee is 1%.
How To Invest in ETFs In Canada
There are several simple ways to invest in ETFs in North America. You can make your investments by yourself or through a brokerage firm.
If you wish to invest by yourself, you can do that using a self-directed brokerage account. There are self-directed brokerage accounts available for you to take advantage of.
However, to reduce your transaction fees, you can make use of Wealthsimple Trade or Questrade. These are effective alternatives that will help you make your investments while keeping the costs low.
With Wealthsimple Trade, you can buy and sell stocks and ETFs free of any charges or trading fees. What's more, new clients who sign up using a link provided by Savvycanadians.com will get a bonus of $50 after trading at least $100.
Like Wealthsimple Trade, Questrade allows users to buy ETFs free of any charges but makes minimal charges when you sell.
Questrade also offers users $50 in free trades when they make deposits of at least $1000 and use the promo code SAVVY50 (provided by Savvycanadians.com).
Benefits of Investing in Crypto ETFs
Having discussed What ETFs are, the ones available in North America, and how to invest in them, the next question is, what is the big deal about ETFs anyway?
What are the benefits of investing in this class of digital assets?
We will be discussing some of these benefits below.
It's Easy to Invest in
If you have never invested in the Crypto space previously, this will come as a surprise to you.
Why?
Because you don't know any better! Investing in Cryptocurrency is not as easy as many have been made to believe.
The steps involved in purchasing cryptocurrency are quite a number, and may not be easy for a newbie to navigate without making mistakes.
However, with Crypto ETFs, you can buy or sell them using traditional brokerage accounts. You do not need to set up a digital wallet. You don't even need to be tech-savvy to invest in ETFs.
2. They are Regulated
Although one of the beautiful things about cryptocurrency is that they are unregulated by any central body or agency. This advantage becomes a challenge when faced with the threat of fraud, scandals, etc.
ETFs are regulated by an institution, so the investor can go to sleep knowing that his investments are protected from fraud and other threats by the issuing organization.
3. Diversified Investment
One of the general principles of investment is diversification. Investors are always encouraged not to put all their eggs in a basket, to avoid losing it all if something goes wrong.
Crypto ETFs comprise several cryptocurrencies, ensuring diversity in investments, and reduces the impact of loss if a particular cryptocurrency drops in price.
4. Regulated by the Canadian Government
Because these ETFs are regulated by the Canadian Government agency, it makes them eligible for investments in government-regulated tax plans like the Canadian Registered Retirement Savings Plan (RRSP), and the Tax-Free Savings Account (TFSA), which allows users to invest in crypto ETF and enjoy tax efficiency benefits.
Demerits of Crypto ETFs
Like most things that have benefits, Crypto ETFs are not void of demerits. Below are a few:
Investors do not own any cryptocurrency
Investors in Crypto ETFs do not own the underlying cryptocurrency that their ETFs track. It is owned only by the issuing body.
Consequently, investors cannot exchange their underlying cryptocurrency for another type. In addition, they are insulated from the benefits that come from being a part of the decentralized system that comes with owning a cryptocurrency.
2. Management Fees are High
Management fees in Crypto ETFs are higher than the average management fees other types of ETF's cost. From the above-listed ETFs, you will notice that some of these ETFs charge as much as 1% of total investors' assets as management fees per annum.
This is high compared to the annual management fees charged in other kinds of ETF.
Conclusion
So, you have your guide to investing in Crypto ETFs in North America. And of course, it is a very profitable investment that worth's at least a decent shot.
See your broker for further advice before making the final move on this investment.
Cheers to your success!
Related Article: How To Make Money With Cryptocurrency