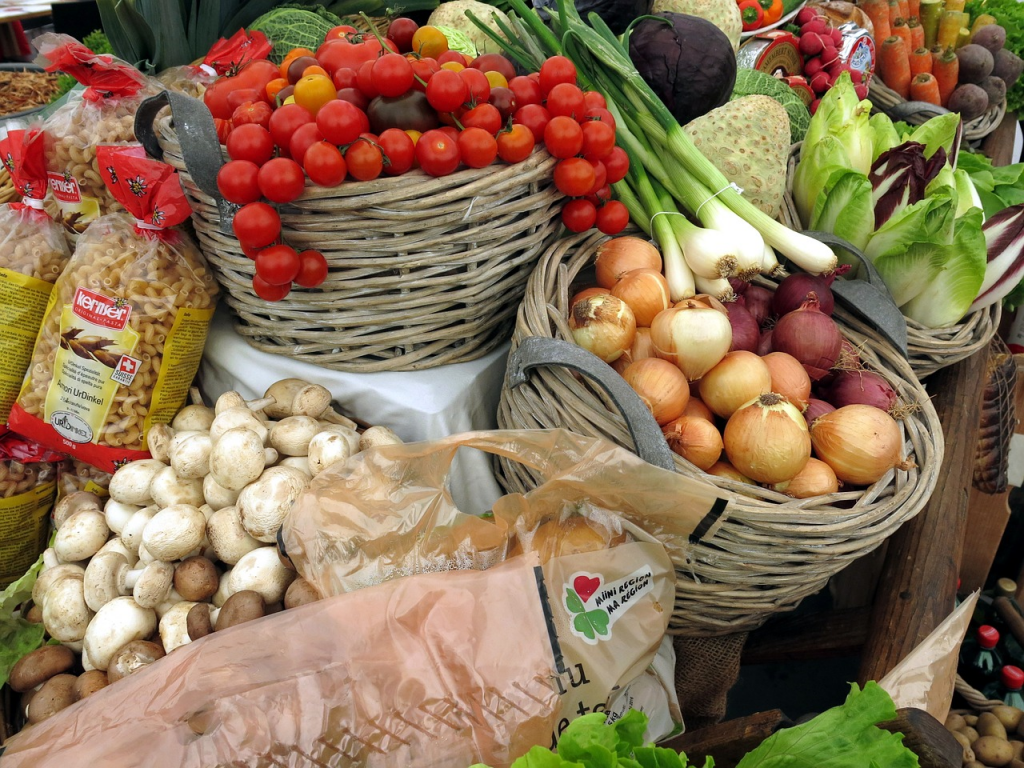 Before the oil boom of the 1970s, Agriculture contributed about 57% to Nigeria's GDP and accounted for about 64% of Nigeria's export earnings.
These figures are put into clearer perspective when you consider that Agriculture was the source of the revenue that built many states. The Cocoa House in Ibadan was constructed by revenue generated from cocoa farming in the then western region.
Several other projects and government programs were sponsored with the revenue generated from Agriculture across the various regions in Nigeria.
However, with the advent of oil, the agriculture sector started a gradual decline until it came to the pitiable state it was a few years ago. What was responsible for the decline?
It was a shortage of investors in the sector. The investors who earlier invested in agriculture soon moved their resources to the oil industry. And before we knew it, agriculture became more like a subsistent practice in Nigeria, basically funded by poor farmers, with little or no government assistance.
The Good news is; Agriculture is still a lucrative industry that is making many millionaires. This article will be guiding you on how to invest in agriculture in Nigeria.
What's more, you do not even need to own or go to any farm. There are several farming investment opportunities that you could exploit to make a cool profit.
And for those who will want to own a profitable agricultural venture, you are not left out. You will find here the best type of farming to invest in.
Let's dive in already!
Ways to Investments in Agriculture in Nigeria.
There are three ways to invest in Agriculture in Nigeria, and they are as follows:
Investing in the farms of other farmers.
Owning an Agro-based establishment, like a farm.
Export Agro-based products.
These are the Major ways people have invested in agriculture in Nigeria. We will be reviewing each of them in detail.
Investing in the Farms of Other Farmers.
Did you know you can make money from agriculture in Nigeria without owning a farm?
Yes, you read that right!
Lots of Nigerians are cashing out with online farm investment opportunities. As I type this, there are several farmers and business organizations that raise money for agriculture online and pay their investors handsomely.
How does this work?
Most of these virtual farm investment platforms function like crowdfunding platforms, where those seeking to invest in farms can be matched with farmers seeking investments in their farming projects.
Some others function like investment firms that pull resources from the public and invest them in farms or other agro-based investments.
An interested investor can visit any of these online farming investments platform and register. After registration, you will be presented with all available farm investment opportunities on the platform.
Each of these investments provides details of the farm, such as its location, and details of the investment such as minimum investment amount, the investment duration/farming cycle, and the projected rate of returns.
After selecting and completing your investment, it will be documented, and then the funds sent to the farmer to start up the farming project.
To ensure funds are properly used, these virtual farm investment managers monitor the activities of the farmer, throughout the farming process, to ensure funds are properly used and investors are protected.
At the end of the farming cycle, the products are sold and then the proceeds are used to pay the investors their capital and profits. Whatever is left can be shared by the farmer and the virtual farm investment platform provider.
These online farm investment opportunities offer investors guaranteed returns that range from 15% – 45%, per farming cycle. Although a few promise higher returns higher than these figures.
So here you go!
This is the general mode of operation of these online farming investment platforms. Having discussed it, we will be reviewing a few of the most popular virtual farm investment platforms.
Let's get on with it!
Crowdyvest
One virtual farming investment platform that easily stands out is Crowdyvest. It is a member of the Farmcrowdy family.
It describes itself as an impact-driven cooperative society that creates financial solutions for a community of individuals and organizations that are committed to long-term growth and financial freedom.
With this investment platform, you can invest in farms and make guaranteed returns. Beyond agriculture, it also provides investment opportunities for other types of projects.
Crowdyvest offers farm investment opportunities that are safe and have guaranteed returns.
If you are a farmer seeking investors, you can contact the team at Crowdyvest to discuss the opportunities that you can advantage of.
For more details, visit www.crowdyvest.com.
Thrive Agric.
Following the ban placed on rice importation by the Muhammed Buhari Administration in 2019, the supply of rice reduced drastically, while the demand continues to increase. This has made rice farming very profitable.
Thrive Agric offers investors the opportunity to invest in Rice farms and or Poultry farms. Since Rice farming and poultry farming have become so profitable, investors are guaranteed to get back their capital in addition to projected returns on their investments.
Farms managed by Thrive Agric are located in Ajingi, Warawa, Aji, Kura, in Kano state, and Iseyin, and Ibadan, in Oyo State.
The minimum investment on this platform is N10,000 only. While the returns rate ranges from 12% – 20%, depending on the amount invested.
What's more, all their farms are insured by Leadway Assurance Company, ensuring that investors' capital is protected from any accident that may occur in the course of the farming cycle.
For more details visit https://www.thriveagric.com/.
Payfarmer
Another successful agro investment platform that has won the hearts of thousands of investors is Payfarmer. With farms located in Oyo, Kwara, and Lagos State, Payfarmer has continued to give investors pleasant returns on their investment.
Payfarmer invests in livestock farms such as Fisheries, Piggeries, and Poultries. It also invests in cash crops like vegetables (pepper) and Yams. Investors are allowed to invest in any venture of their choice.
The amount for investment on this virtual farm investment platform starts from N25,000, with the farming cycle ranging from 5 to 10 months. Returns on investments ranges from 20% – 30%.
Like Thrive Agric, Leadway Assurance company also provides insurance cover for all the farms managed by Payfarmer. So, investors can rest assured that their investment is safe, regardless of whatever happens.
Visit https://payfarmer.com/page/, for more details, and for agro investment opportunities, you can exploit.
Farm Funded
Farm Funded is another online farm investment platform that emerged a few years ago. They specialize in Rice farming, milling, and processing. Their Rice farms and processing plant is located in Nasarawa state.
With Farm Funded, you can invest in Rice farms or a processing plant and make nice returns on your investment.
Investment amount starts from N20,000 on this online farm investment platform, with returns on investment starting at 20% and capping at 36%. The farming cycle for Rice farm investment is 8 months.
Visit https://farmfunded.com/, for more details.
Owning an Agro-based Establishment.
Besides investing in virtual farm investment platforms, there are other ways you can invest in Agriculture in Nigeria. In this section, we will be exploring how you can invest in Agriculture in Nigeria by owning an agricultural establishment.
The following are lucrative farm investments that you can take advantage of for maximum returns:
Livestock farming.
Cash crop farming.
Distributing Agricultural products.
Livestock Farming
Livestock farming simply refers to the rearing of farm animals like birds, goats, cattle, etc. to obtain their products such as eggs, milk, leather, and meat.
Livestock farming has always been a lucrative investment that has made many wealthy over the years. It, therefore, comes as no surprise that more persons are becoming interested in this investment.
To bring this to proper perspective, according to Akinwumi Adesina (President of African Development Bank), Nigeria consumes 360,000 tons of meat every year. And this figure is projected to increase to about 1.3 million tons by 2050.
Beyond the demand for meat, the demand for eggs, leather from animal hide, etc., is on the rise, as the population of the country increases. All of this goes to show that investment in livestock farming is guaranteed to bring in nice returns.
There are various kinds of livestock farms. We have the Poultry farm, Pig farm, Rabbit farm, Cattle farm, fish farm, etc. The key here is to identify the one you understand and love, before investing.
It is important to note here that before investing in any kind of livestock farm, you should understand how to manage it because your knowledge will play a crucial role in the success or failure of the venture.
Cash Crop Farming
Cash crop farming refers to growing crops for the purpose of selling them for profit. The kind of crops grown in this kind of farming includes Maize, Yam, Cotton, Rubber, Cassava, Cocoa, etc.
This kind of farming is lucrative however, it requires reasonable capital to maximize returns.
As the need for food security continues to increase in Nigeria, the demand for cash crops will continue to increase. Investors can be sure that they have a ready market awaiting their products if they choose to invest in this direction.
However, as in Livestock farming, Cash crop farming requires knowledge and skill to make a profit. Before you invest, ensure to learn about the crop you wish to grow and best practices for best returns. This will increase your chances of making healthy returns.
Read also: Ways To Make Money From Home
Distributing Agricultural Products
Truth is, most farmers only concern themselves with how to produce and harvest. They hardly want to face the stress of having to take their products to the market to sell directly to consumers.
So, they need middle-men to buy these products from them at decent prices and resell them to consumers.
Being a middle man or distributor for agricultural products is a sure way to make quick returns on your investment. For instance, a farmer may choose to sell a crate of eggs at N500 to a distributor. That same crate is resold at N800 – N1000, to the final consumers.
The middleman makes a profit of at least N300 within a few days without having to manage the risk of training birds.
So, it is obvious that distributing agricultural products is a lucrative type of agro investment.
However, like most things in life, there are guidelines to doing it profitably. Before investing in distributing any agro-based product, ensure to learn all you need to know about it, such as how to preserve it, transport it, etc. This knowledge will guide you and help make it profitable for you.
Exporting Agro-based Products
I was amazed to learn recently that Northern Nigeria is one of the largest exporters of leather internationally! I was even more amazed when I learned that popular brands like Gucci, etc. use leather from Northern Nigeria in designing those popular bags and shoes people love.
The question is, which persons are responsible for those exports and how much are they making? I guess they are into serious money!
You too can be in serious money by exporting agricultural products outside Nigeria.
Popular cash crops like cocoa, groundnut, etc., have a huge foreign market waiting to snap them up. All you need do to tap into this well of foreign business is to study about them, understand their requirements, and apply them accordingly.
You will be amazed at how much money you would make within a few months. Needless to say that this is the most lucrative agro investment available in Nigeria.
Conclusion
So, here you go!
These are viable agro investment opportunities available in Nigeria that you can tap into to end your money concerns once and for all.
As advised, seek professional advice before venturing into any, to avoid losses.
To your success, as you begin or continue your journey in agro-based investment.