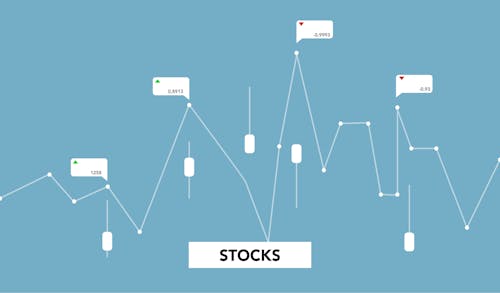 Have you ever wondered why people invest in Ponzi Schemes? When there are numerous passive income streams that can be created with or without a capital.
Although many persons are quick to blame it on greed, truth is, it is beyond greed! People are always in search of ways to get passive income, that is why many are quick to grab any opportunity that seems good.
What else do you think is responsible for making people invest in the stock market, digital assets, start-ups, if not the desire to have other sources of income? This desire will always push folks to try out new sources of income.
However, in a bid to create passive income, many have become victims of fraud and lost their hard-earned money. This does not have to be so!
There are lots of legit ways to generate smart passive income, and this article will be guiding you on how to do so.
Let's hit the road!
What is Passive Income?
So, what do we mean by Passive income?
According to Oberlo.com, Passive income is money you earn that does not require you to do a lot of "active" work to continue making it. In essence, you can do most of the work upfront and put some additional effort along the way to earn an income.
Wikipedia simply defined it as an income that requires little or no effort to earn and maintain. It can be described as Progressive Passive income when the owner can increase the income with little extra effort.
Common examples of passive income include rental income, dividends from stock, royalties from assets, etc.
The key takeaway from these definitions is that a passive income requires little or no effort to earn and it is continuous.
NB: It is important to note that Passive income is different from Active income, in that Active income requires consistent effort to acquire it. It ends the moment you stop working. Examples of Active income include Salaries, wages, and commissions for doing a job, etc.
Benefits of Having Passive Income
Many times, knowing the benefits of a thing drives you to do all that is necessary to generate it. Here, we will be discussing a few benefits of having Passive Income.
Freedom of Time
One activity that consumes our time the most is work! Whether you are a business owner, or you have a job, we all know how much time we have to invest each day to get a monthly paycheck.
It is even worse for those who hate their jobs, yet have to remain there to be able to pay their bills. How about having a reliable means of income that does not require much of your time?
This is why having passive income is so important. It does not require much of your time to earn or maintain. Although it may demand a reasonable amount of time to set it up, after it has been set up, it requires little or no time to maintain it.
Reduces Stress and Anxiety!
Oh, the anxiety that comes when there is an impending massive lay-off in your organization! It becomes difficult to sleep at night, food losses taste in the mouth, everything becomes unexciting until one is sure they will not be laid-off.
And what about the stress that comes with having a Job?
Needless to talk about that, it is something we understand too well.
The good news is that having a Passive income reduces or eliminates this stress altogether! How?
The fact that you have an alternative gives you the option of resigning from your stressful job and picking up the one you truly love.
Furthermore, having financial options eliminates or reduces your stress. Paying your bills will no longer be much of a big deal. It becomes easier to manage whatever other challenges you may be facing.
Allows You to chase your dreams and do what you love!
Another benefit of having passive income is that it allows you to chase your dreams and do those things you want to do.
Today many persons are stuck in their jobs, doing what they don't love, and in some cases, what they hate, only because they need the paycheck. You would agree that is not a great way to live. People ought to live their life doing what they love!
Having a passive income gives you the financial stability needed to chase your dreams and do what you love. Since your passive income can take care of your bills, you can venture into just anything that catches your fancy.
This is a sure better way to live.
Freedom to Live Anywhere!
Another great thing about having passive income is that it gives you the freedom to live anywhere you choose to, around the world.
Since your passive income does not require your physical presence or effort in most cases, it gives you the freedom to travel as much as you wish and live anywhere you wish. The passive income will keep rolling according to schedule, wherever you are per time.
Financial Stability & Wealth Creation
When you have Passive income rolling into your bank account every month, it brings a certain level of financial stability into your life. This financial stability becomes even massive when the Passive income you are generating is huge.
For instance, if your stocks are raking in dividends in the region of $50,000 annually, this will guarantee some level of financial stability.
Furthermore, Passive income can be used for further wealth creation. The funds generated as Passive income can be used to fund other investments that will bring you more money. This makes having Passive income very necessary.
How To Create Passive Income?
Since having Passive income can be so key, how then can one generate it? We will be discussing Smart Passive Income Strategies in this section.
Let's get going!
1. Start a Blog
A blog is a webpage that is usually managed by an individual or a small group of persons, that has its content written in an informal or conversational style. In blogs, contents are presented in reverse chronology, that is, new content appears first.
Blogging is a proven Passive income strategy that works. Countless internet entrepreneurs all over the world have generated lots of money from running blogs.
How does it work?
If you own a blog that attracts thousands or more visitors daily, all you need to do is make it available for other organizations to place adverts on your blog. This process is often referred to as monetizing.
The organization placing adverts on your blog will pay an agreed amount for their adverts on your blog.
In addition, you can also make money from your blog through sponsored posts, that is making posts for a client that has paid for it. Other methods of making money from a blog include affiliate links, book deals, etc.
The methods of making passive income from your blog go on and on!
However, owning a blog does not mean that you will automatically make money from it. It requires lots of initial work to grow it before you can start reaping the dividends in the way of Passive income.
Furthermore, ensure to learn all you can about blogging before you own one because this knowledge will guide you to set up the right kind that will be most profitable for you.
2. Leverage Your Social Media Skills
Did you know that you can generate smart passive income from social media?
Yes, it's possible!
In fact, thousands of persons are making passive income from social media globally.
How can you do this?
Well, it starts from developing your social media skills till you have large a following on social media, and you're able to make posts that generate lots of shares, likes, and comments.
When you have successfully done this, big brands will shortly start contacting you to advertise their products or services on your page, and this comes with huge financial benefits.
In addition, as you demonstrate your social media skills, big brands may contact you to manage their social media pages. This also comes with financial rewards.
So, you see it is not rocket science to have passive income streams via social media. If you will take the time to develop your social media skills, you will be amazed at the financial rewards your new skills will attract.
If you are love making videos and have the skills to produce videos that will generate lots of views on YouTube, you should give this a shot. Why so?
Creating YouTube videos is one of the passive income streams that are worth exploring, because of the rewards that it brings.
How does it work?
Set up a YouTube account and monetize it. Make interesting videos and upload them on your YouTube channel. As people visit your channel to see your videos, you will be paid for every video that is viewed.
However, you will only be paid if your channel is monetized, that is if you allow YouTube to place adverts on your videos.
At the moment, YouTube pays between $2 and $18 per 1000 views of your videos depending on the type of channel for instance a channel on finance earns more per 1,000 views than a vlog channel.
So, if you generate 50,000 views per month on your YouTube channel, you will be making between $100 and $900 every month. That does not seem like a very bad figure for a passive income.
It gets better. As you keep producing amazing videos for your audience, your viewings will keep increasing, as well as your income.
What's more, soon several organizations will start contacting you to create videos featuring their products or services. And as you know, they will pay handsomely for it.
So, there are several money-making opportunities available in creating YouTube videos.
If you are interested in this, ensure to learn all that you can about this. It will improve your chances of success.
4. Establish a Print-on-demand online store
These days where eCommerce is doing great, starting a print-on-demand online store is a smart passive income idea you should explore. But before we go any further, let's start from the basics.
What is eCommerce?
Ecommerce refers to the buying and selling of goods on the internet. So, websites like Alibaba, Jumia, Amazon, etc. are great examples of eCommerce platforms.
What is a print-on-demand online store?
According to Shopify, a print-on-demand online store is an eCommerce business where you work with a supplier to customize their products with your unique designs so that you can sell them on a per-order basis under your brand.
That means you don't pay for the product until after you've actually sold it, so there's no need to buy in bulk or hold any inventory yourself.
In this business model, the supplier takes responsibility for printing the designs, shipping out orders, etc. You do not have to do much after setting it up. The money just keeps flowing in!
Talk about generating Passive Income streams! Does it get any better than this?
However, you will have to study this business model to be able to get the best out of it. You will find materials to guide you on the internet.
5. Invest in Stocks and Digital Assets
Over the years, the stock market has made millions of persons rich all over the world. It is sure a smart passive income strategy.
However, before investing in it, seek the counsel of seasoned brokers to avoid acquiring poor-performing stocks.
Discuss with your banker to guide you to a reputable Broker.
When we talk about digital assets, we are referring to cryptocurrencies. Investing in cryptocurrency is one of the ways to create passive income streams if done right.
For more information on how to invest in crypto assets, read our article.
6. Invest in Properties
Another way of creating passive income streams is investing in real estate. Over the years, the value of the real estate has experienced a steady increase. You can use this to your advantage by acquiring property in a promising location.
You will be glad you did when the value increases.
However, seek professional advice before paying for a property. To avoid tying down your capital in a poor-performing property.
Conclusion
These are a few of the numerous ways to creating passive income streams. I am confident that if you implement any of these methods, you will get pleasant results.
However, before deciding on which to invest in, seek professional guidance, to ensure that you get it right.
Furthermore, only invest in areas you have interest, as it is your interest that will keep you going if it becomes challenging.
Cheers to your success, as you begin creating your Smart passive Income Strategies!